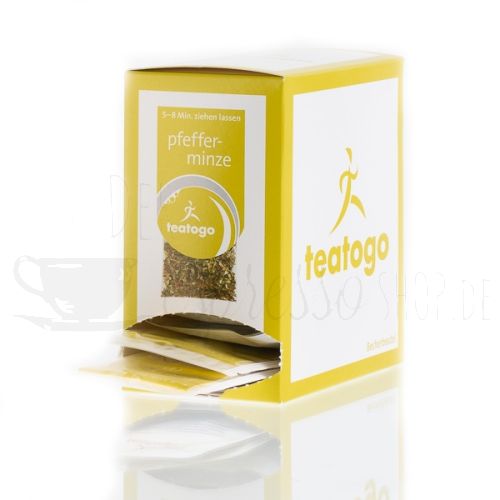 teatogo pfefferminze Kräutertee | 25 Beutel 50 g
Kräftiger, natürlicher Pfefferminzgeschmack, egal ob heiß oder kalt, immer gut!
Der beliebte Klassiker mit einer kräftigen Mentholnote
Genießen Sie Pfefferminztee auch kalt mit Eis, ideal für den Sommer
Einzeln verpackte Teebeutel für 0,3 Liter
Nur 25 übrig
2-3 Tage Lieferzeit innerhalb Deutschlands (6 - 9 Tage ins Ausland)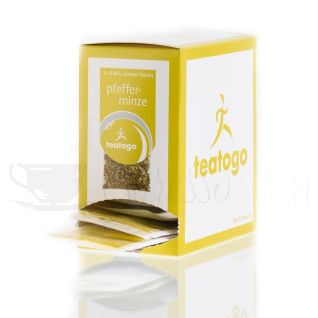 Der belebende Pfefferminztee mit kräftigem Mentolaromen
Beste Minzblätter und eine kräftiger Geschmack so präsentiert sich der Pfefferminztee von Tea to Go. Eine kräftige Farbe in der Tasse und ein sofort angenehmer Minzaroma nach dem Aufgießen.
Dieser äußerst beliebte
Kräutertee
gehört zu den zeitlosen Klassikern und eignet sich durch den hohen Anteil an
Menthol
ideal als Erfrischungsgetränk. Sie erleben einen kräftigen, natürlichen Minzgeschmack. Dieser
Tee
ist auch als
Eistee
ideal!
Gießen Sie den Teebeutel immer mit 0,3 Liter Wasser auf!
25 Beutel x 2,0 g p. Beutel = 50g
---
Artikelnummer

G168

Produkt-Hinweis

Wichtiger Hinweis: Immer mit sprudelnd kochendem Wasser aufgießen und mindestens 5 Minuten ziehen lassen! Nur so erhalten Sie ein sicheres Lebensmittel!

Herstellungsland

Deutschland

Mindesthaltbarkeitsdatum

28.02.2026
Hersteller

Tea To Go Teebeutel - eine Marke mit Qualität

Sie legen großen Wert auf hochwertige Teekreationen? Dann lassen Sie sich von TeatoGo verwöhnen. In diesen Mischungen werden nur beste Zutaten verwendet, die sich in jeder Tasse Tee wiederspiegelt. Mit fein ausgewogenen Teemischverhältnissen und höchster Qualität! Tea to Go verarbeitet nur hochwertige Teemischungen und Zutaten aus ausgesuchten Anbauländern. Die Tees überzeugen mit Ihrem hervorragenden Geschmack wo sich auch die Qualität wiederspiegelt und Sie jeden Schluck genießen können.
Diese Teemischungen sind für eine Tassengröße von 0,3 Liter konzipiert und lassen geschmacklich keine Wünsche offen.
Eigene Bewertung schreiben
Zutaten

Pfefferminzblätter