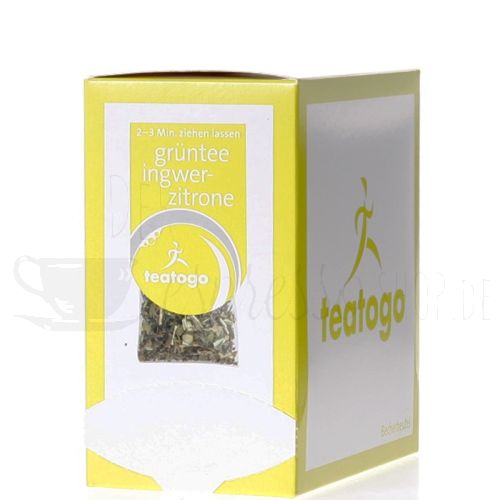 teatogo Ingwer Zitrone Grüntee | 25 Beutel 93,75 g
Grüner Tee kombiniert mit der leichten Schärfe des Ingwers und der spritzigen Note der Zitrone
Zitronengras und Zitronenschale mit scharfem Ingwer
Einzeln verpackte Teebeutel für 0,3 Liter
Anregender Ingwer und fruchtige Zitrone
2-3 Tage Lieferzeit innerhalb Deutschlands (6 - 9 Tage ins Ausland)
Belebender Grüner Tee mit Ingwer
Das typisch feinherbe Aroma des
Grünen Tees
wird in dieser
Teekomposition
durch den anregenden, würzigen Ingwer und die spritzige Zitronennote aufgepeppt. Sie erleben eine besondere Frische. Der
Tee
kann nicht nur heiß, sondern im Sommer gerne auch erfrischend kalt getrunken werden.
Gießen Sie den Teebeutel immer mit 0,3 Liter Wasser auf!
Die Zubereitung von Grünem Tee
Sie sollten bei dieser
Teesorte
darauf achten, den Tee nicht mit zu heißem Wasser zu übergießen. Das aufgekochte Wasser bitte kurz abkühlen lassen und dann erst den Tee übergießen. Die perfekte Temperatur liegt bei 80-90°C. Lassen Sie den
Teebeutel
2-4 Minuten ziehen. Wussten Sie, dass der Tee 3-4 aufgegossen werden kann?
Wenn Sie an heißen Tage den Tee kalt genießen möchten, bereiten Sie den Tee wie beschrieben zu. Süßen Sie gegebenenfalls mit Zucker oder Honig und ergänzen Sie das Getränk mit Eiswürfeln. So erhalten Sie schnell und einfach einen leckeren
Eistee
!
25 Beutel x 3,75 g p. Beutel = 93,75 g
---
Artikelnummer

G166

Produkt-Hinweis

koffeinhaltig

Herstellungsland

Deutschland

Mindesthaltbarkeitsdatum

31.12.2024
Hersteller

Tea To Go Teebeutel - eine Marke mit Qualität

Sie legen großen Wert auf hochwertige Teekreationen? Dann lassen Sie sich von TeatoGo verwöhnen. In diesen Mischungen werden nur beste Zutaten verwendet, die sich in jeder Tasse Tee wiederspiegelt. Mit fein ausgewogenen Teemischverhältnissen und höchster Qualität! Tea to Go verarbeitet nur hochwertige Teemischungen und Zutaten aus ausgesuchten Anbauländern. Die Tees überzeugen mit Ihrem hervorragenden Geschmack wo sich auch die Qualität wiederspiegelt und Sie jeden Schluck genießen können.
Diese Teemischungen sind für eine Tassengröße von 0,3 Liter konzipiert und lassen geschmacklich keine Wünsche offen.
Eigene Bewertung schreiben
Zutaten

Grüner Tee (73%), Ingwer (13,5%), Zitronengras, Zitronenmyrte, Zitronenschale (1%)