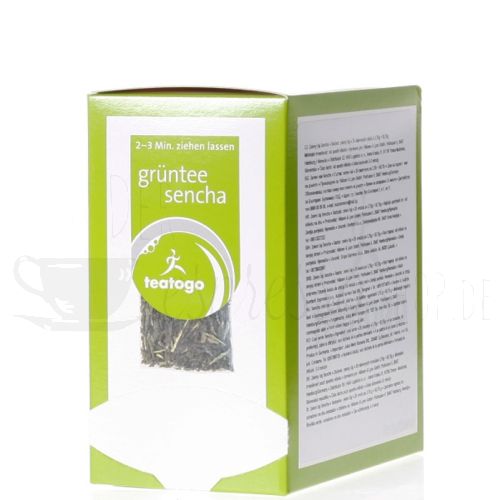 teatogo grüner tee sencha | 25 Beutel 93,75 g
Teebeutel mit hochwertigen Grünen Tee aus ausgewählten Regionen Japans
Feiner, milder Geschmack, typisch grasiges Aroma
Einzeln verpackte Teebeutel für 0,3 Liter
Feinste Blatt Auswahl
Sencha der beliebte Grüne Tee einfach unwiderstehlich
Nur 22 übrig
2-3 Tage Lieferzeit innerhalb Deutschlands (6 - 9 Tage ins Ausland)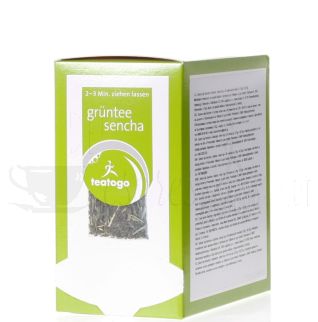 Feinster japanischer grüner Tee - markant mit fein, grasiger Note
Der Sencha Tee gilt als der der meist getrunkene Tee Japans und ist auch hierzulande sehr beliebt. Sencha heißt übersetzt soviel wie "gedämpfter Tee" Sein ausgewogen milder Geschmack der typischen eleganten, grasigen Note. In der Tasse präsentiert sich der Grüne Tee in einem hellen und mildem Grün. Ein Klassiker für Teeliebhaber
Gießen Sie den Teebeutel immer mit 0,3 Liter Wasser auf!
25 Beutel x 3,75 g p. Beutel = 93,75g
---
Artikelnummer

G157

Produkt-Hinweis

koffeinhaltig
Wichtiger Hinweis: Immer mit sprudelnd kochendem Wasser aufgießen und mindestens 5 Minuten ziehen lassen! Nur so erhalten Sie ein sicheres Lebensmittel!

Herstellungsland

Deutschland

Mindesthaltbarkeitsdatum

31.01.2026
Hersteller

Tea To Go Teebeutel - eine Marke mit Qualität

Sie legen großen Wert auf hochwertige Teekreationen? Dann lassen Sie sich von TeatoGo verwöhnen. In diesen Mischungen werden nur beste Zutaten verwendet, die sich in jeder Tasse Tee wiederspiegelt. Mit fein ausgewogenen Teemischverhältnissen und höchster Qualität! Tea to Go verarbeitet nur hochwertige Teemischungen und Zutaten aus ausgesuchten Anbauländern. Die Tees überzeugen mit Ihrem hervorragenden Geschmack wo sich auch die Qualität wiederspiegelt und Sie jeden Schluck genießen können.
Diese Teemischungen sind für eine Tassengröße von 0,3 Liter konzipiert und lassen geschmacklich keine Wünsche offen.
Eigene Bewertung schreiben
Wir haben andere Produkte gefunden, die Ihnen gefallen könnten!