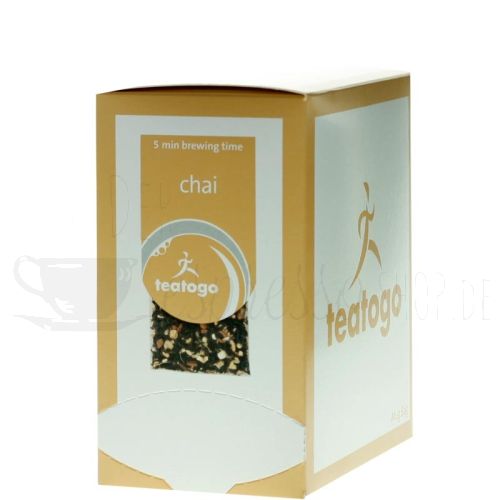 teatogo Chai Schwarztee | 25 Beutel 125 G
Kräftiger, malziger Schwarzer Tee mit orientalischen Gewürzen wie Zimt, Kardamom, Nelken und etwas Ingwer
Einzeln verpackte Teebeutel für 0,3 Liter
Indische Teemischung schon fertig im Beutel
Handgepflückter Tee
Bester Teegenuss im Beutel
Nur 23 übrig
2-3 Tage Lieferzeit innerhalb Deutschlands (6 - 9 Tage ins Ausland)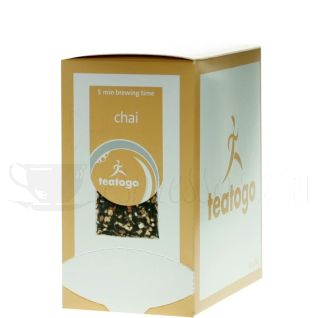 Schwarzer Tee mit orientalischen Gewürzen
Ei erhalten eine erlesene Komposition aus kräftigem und malzigen Tee mit orientalischen Gewürzen - Kardomom, Ingwer, Nelken und Zimt. Stark und würzig im Geschmack mit angenehmer Zimt-Kardamomnote, einer leichten Ingwerschärfe. Malzig, feinherb und sahnig mit hohem Gerbstoffgehalt.
Am besten mit Milch und Honig genießen.
Gießen Sie den Teebeutel immer mit 0,3 Liter Wasser auf!
Was ist "Chai Tee"?
Das
Teegetränk Chai
stammt ursprünglich aus Indien und ist das dort das "Nationalgetränk". Fast jede Familie hütet ihr eigenes Rezept. Die Basis ist stets Schwarzer Tee, der auf dem Herd aufgekocht und mit verschiedensten Gewürzen veredelt wird, wie zum Beispiel Nelken und Kardamom.
25 Beutel x 5 g p. Beutel = 125g
---
Artikelnummer

G162

Produkt-Hinweis

koffeinhaltig
Wichtiger Hinweis: Immer mit sprudelnd kochendem Wasser aufgießen und mindestens 5 Minuten ziehen lassen! Nur so erhalten Sie ein sicheres Lebensmittel!

Herstellungsland

Deutschland

Mindesthaltbarkeitsdatum

31.03.2026
Hersteller

Tea To Go Teebeutel - eine Marke mit Qualität

Sie legen großen Wert auf hochwertige Teekreationen? Dann lassen Sie sich von TeatoGo verwöhnen. In diesen Mischungen werden nur beste Zutaten verwendet, die sich in jeder Tasse Tee wiederspiegelt. Mit fein ausgewogenen Teemischverhältnissen und höchster Qualität! Tea to Go verarbeitet nur hochwertige Teemischungen und Zutaten aus ausgesuchten Anbauländern. Die Tees überzeugen mit Ihrem hervorragenden Geschmack wo sich auch die Qualität wiederspiegelt und Sie jeden Schluck genießen können.
Diese Teemischungen sind für eine Tassengröße von 0,3 Liter konzipiert und lassen geschmacklich keine Wünsche offen.
Eigene Bewertung schreiben
Zutaten

Schwarzer Tee (65,5%), Ingwer, Zimt, Aroma, Kardamomsaat, Gewürznelken