tea to go earl grey Schwarztee | 25 Beutel 81,25 g
Hochwertiger Schwarzer Tee mit eleganter Bergamottennote
Leichter chinesischer Blatttee mit dem gewissen Etwas
Ein beliebter Frühstückstee
Einzeln verpackte Teebeutel für 0,3 Liter
Handgepflückter Tee
2-3 Tage Lieferzeit innerhalb Deutschlands (6 - 9 Tage ins Ausland)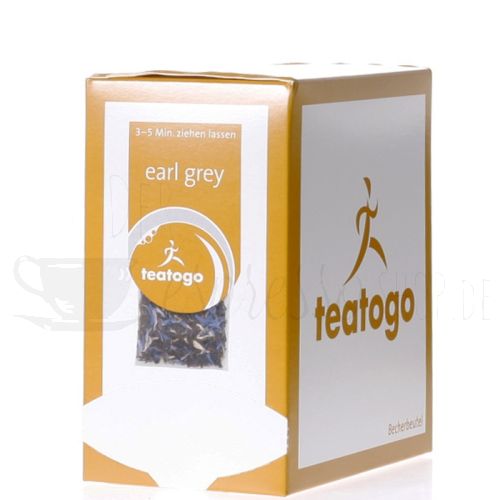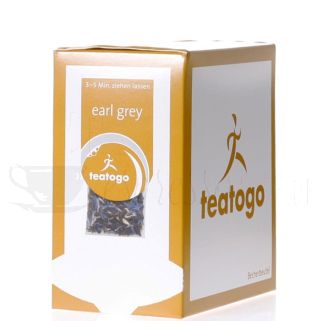 Englischer Frühstückstee, Earl Grey
Hier sorgt das Bergamottenaroma für das gewisse Etwas. Basis des Earl Greys ist ein leichter chinesischer Blatttee sowie ein Ceylon Tee mit süßlicher Note. Legenden ranken sich um die Entstehung dieser Teesorte. Darunter auch jene, dass die Ladung eines Schiffes durch einen Sturm durcheinander gewirbelt wurde, wobei sich Bergamottenöl auf Teekisten verteilte. Der britische Premierminister, Earl Grey durfte diese scheinbar lädierte Ladung als Erster kosten und bewies Geschmack. Der Schwarztee mit dem "kleinen Schuss" ist bis heute eine der weltweit beliebtesten Teesorten.
Tee - das meist getrunkene Getränk der Welt!
Tee ist das meist getrunkene Getränk der Welt, so finden sich auch bei uns zahlreiche Liebhaber des wohltuenden Aufgusses. Vom klassischen Schwarztee und Grüntee mit verschiedensten Aromen verfeinert, bis hin zu Früchtetee und Kräutertee - die Auswahl ist breitgefächert. Egal ob, heiß oder kalt, Tee wird das ganze Jahr in verschieden Variationen getrunken. Er kann belebend wirken, ebenso sind auch Mischungen mit beruhigender Wirkung zu finden. Der Aufguss besitzt viele positive Eigenschaften. Tees werden auch gerne mit Säften gemischt und kalt serviert. Ein Begleiter für jeden Tag und ein elegantes Getränk, das Sie in vielen Varianten genießen können!
25 Beutel x 3,5g p. Beutel = 81,25g
---
Artikelnummer

G169

Produkt-Hinweis

Koffeinhaltig
Wichtiger Hinweis: Immer mit sprudelnd kochendem Wasser aufgießen und mindestens 5 Minuten ziehen lassen! Nur so erhalten Sie ein sicheres Lebensmittel!

Herstellungsland

Deutschland

Mindesthaltbarkeitsdatum

31.05.2022
Hersteller

Tea To Go Teebeutel - eine Marke mit Qualität

Sie legen großen Wert auf hochwertige Teekreationen? Dann lassen Sie sich von TeatoGo verwöhnen. In diesen Mischungen werden nur beste Zutaten verwendet, die sich in jeder Tasse Tee wiederspiegelt. Mit fein ausgewogenen Teemischverhältnissen und höchster Qualität! Tea to Go verarbeitet nur hochwertige Teemischungen und Zutaten aus ausgesuchten Anbauländern. Die Tees überzeugen mit Ihrem hervorragenden Geschmack wo sich auch die Qualität wiederspiegelt und Sie jeden Schluck genießen können.
Diese Teemischungen sind für eine Tassengröße von 0,3 Liter konzipiert und lassen geschmacklich keine Wünsche offen.
Eigene Bewertung schreiben
Zutaten

Schwarzer Tee, Aromen, Kornblumenblüten